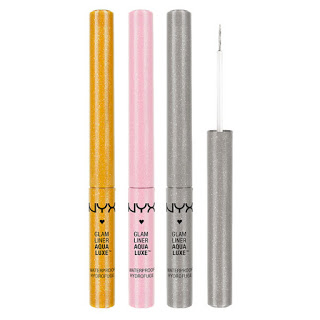 NYX Glam Liner Aqua Luxe – (0.1 oz) $5.50
For a while now I've been looking for a good glitter liner. I've been seeing some very cute looks being created using glitter liner and want to try my hand at it. Although I've seen and tested quite a few glitter liners while browsing my favorite makeup stores, I haven't found one that I liked, until this baby right here.
This amazing liquid glitter liner has a payoff to die for. When you pull out the applicator and go to apply, you can see the product is evenly distributed on the thin brush applicator tip. The brush is extremely skinny, flexible but yet firm and that makes it so easy to apply. The glitter specs are very fine but the liquid aspect makes it easy to apply. Although this liner did get flakey about 10 hours after I applied it, it never came off.
I have a a video below doing a pretty pink makeup look using the pink liner, so check it out if you want to see how I used it. Please like and subscribe to my
The payoff of this amazing glam glitter make this certified. *HAUTE*
Available at: Makeup4sale.com