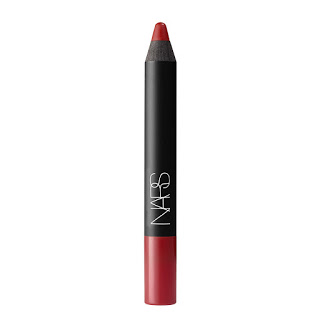 NARS Velvet Matte Lip Pencil – Cruella (0.086 oz) $26.00
Okay, so we all know how bomb a red lip looks and not to mention that it makes your teeth look whiter. I mean hey, who wouldn't want their teeth to appear whiter? I'm all for that honey.
So let me put y'all on and get into this Nars Velvet Matte Lip Pencil.
Before I found this miraculous lip pencil, I really didn't have a favorite red lipstick or a go to red lip color. I had a couple different red lipsticks that I would use to achieve my perfect red lip but nothing that I loved. So when I got introduced to this Velvety goodness I was juiced.
I actually came across this because of Sephora. If you shop there, you know that Sephora has this Beauty Insider card and you earn points that you can use to get their Beauty Rewards that they offer for that month. So this particular month was my birthday month (May) and when your a Beauty Insider member, on your birthday month they give you a free Beauty Reward gift. The free gift I was given was a set of two mini NARS Lip Pencils. One of the pencils was the NARS Velvet Matte lip pencil in Cruella (pictured above) and the other was from their Satin Lip Pencils line in Rikugien. Since I didn't have a good red lipstick I was sooooo excited to get home and try the red one!
Cruella is so bomb. The pencil glides on with ease and it's smooth and velvety but dries to a matte finish and feel. Although it dries to matte, it doesn't dry out your lips, which is always a plus. The color is deep scarlet and very pigmented and since it is so pigmented, you only need to swipe it across your lips a just few times to get full coverage.
After I played in it one time, I knew this would be my favorite red lip product. Anytime I want a red lip, I go to this first and that's because the color pay off is so rich and vibrant.
I use the lip pencil in the video below, watch it to see how beautiful this color truly
This lip pencil is true to its name, the consistency is so velvety and smooth and that is what make this item certified *HAUTE*

Available at : Sephora, NARS