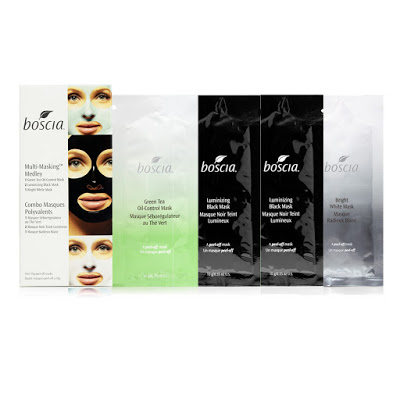 Boscia – Mask Medley: Bright White Mask – $18.00 (4 pack)
While shopping for Christmas gifts, I saw this amazing buy in Sephora and had to get it. (for myself lol I know selfish) With 4 packs for only 18 bucks, how could I not? As I was reading the package, it said the Bright White Mask will brighten, hydrate and help with discoloration. My face had been so dry and dull, I was willing to try anything.
I applied the mask at night, after I already exfoliated and cleansed my face. As I said in the video, the consistency of the product was very thick, almost like a paste. It started to harden after 10 minutes of applying and I could barley move my face. The directions said to keep it on for 25 minutes and I did just that. After those 25 minutes were up, I started to peel the mask off. The take off process was pretty easy. I'm not going to lie, when I started to peel it off, I started on the side of my face and it did hurt just a tiny bit. But "Beauty is Pain" right lol.
 Although the directions indicate that you should avoid getting close to your hair line, I didn't pay attention and got it on some of my baby hairs. I tried to peel it off but it was pulling my hairs so I just used water and rinsed it out. After peeling all of the mask off, I moisturized my face and went to bed.
The next morning, I woke up and went straight to the bathroom to see if I noticed a difference. I absolutely noticed a difference in my skin! I looked so alive and well rested. My face was so soft and so hydrated. The mask definitely lived up to its promises. I loved it so much, I now own the full size version.
HauteView Rating: *HAUTE*